Regular price
$4,300.00 AUD
Regular price
Sale price
$4,300.00 AUD
Unit price
per
Sale
Sold out
Fast Support

Custom Products

Australia Wide Shipping
Frequently Asked Questions
View full details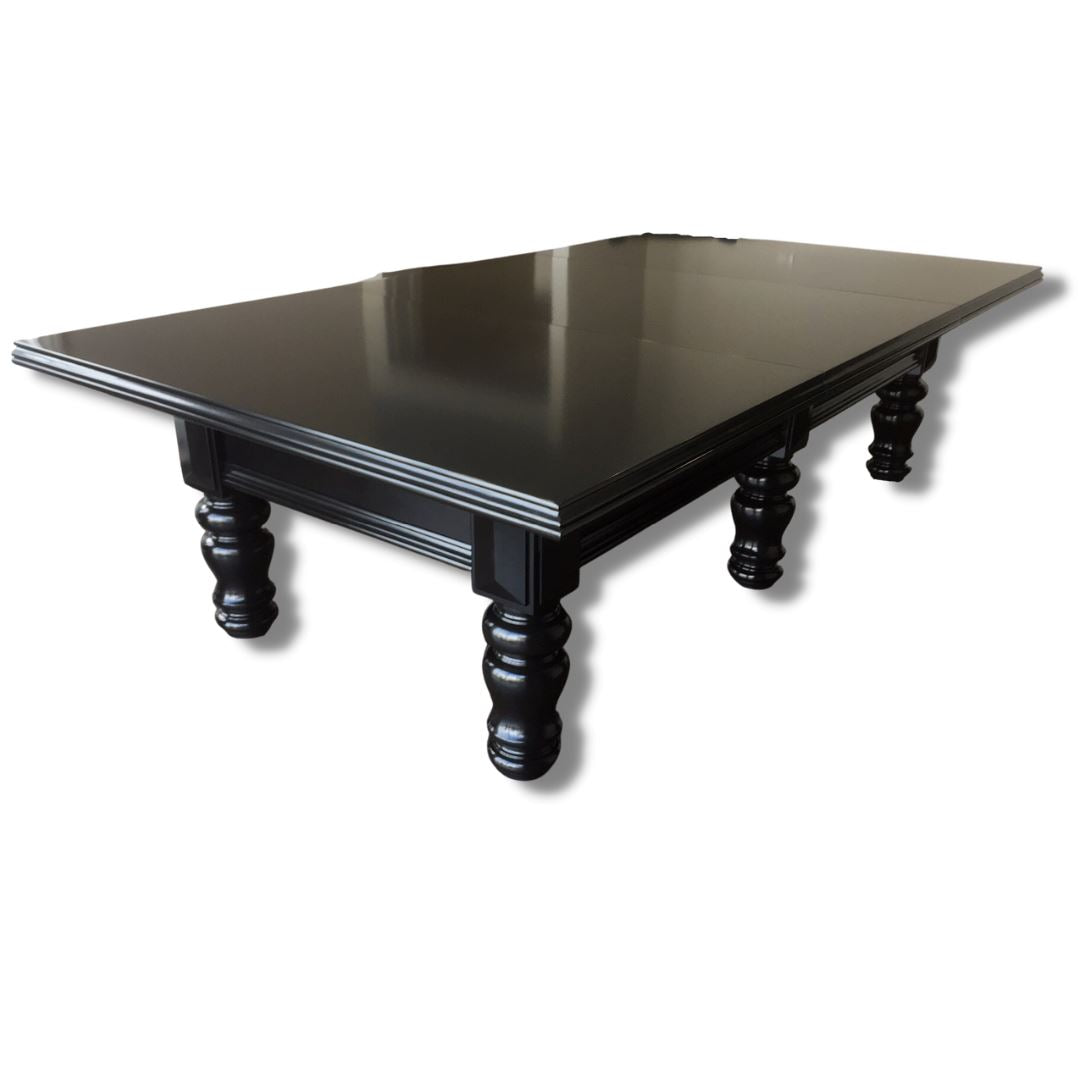 The Zeus Custom Made Billiard/Pool Table is not just about aesthetics. Beneath its graceful exterior lies cutting-edge engineering that ensures precision gameplay.

The quality timbers used in this master piece have been expertly crafted by our Australian based master craftsman. All timbers are sourced her in Australia and particular attention to detail has been payed to the Zeus table. You will find your table has the prefect roll and soft hit cushions make playing on this table a pure pleasure.
High grade New Zealand furniture pine cushions, frames & legs.




Mitchell cloth standard running speed.

Huge selection of stain colours.




Huge colour selection of Cloth.




Free basic Accessory Pack.




19MM solid slate top.




Choose the correct size to suit your room.




High quality Rubber Cushioning.




Drop down net pockets.




Choice of Turned or tapered legs.




Installed by the manufacturer to ensure you are setup correctly from the moment you receive your fantastic new table.

Dining top addition available to make your table versatile and protect the cloth to last the test of time.
Please use dimension below to determine which size table will best suit your available space.
  Table Size                               Room Size
               7' x 3'6"                      16' x 12'6" /  4.87m x 3.81m
               8' x 4'                          17' x 13" /  5.18m x 3.96m
               9' x 4'6"                      18' x 13'6" /  5.48m x 4.11m
               10' x 5'                         20' x 15" /  6.09m x 4.57m
Magnificently Crafted: Our Zeus Custom Made Billiard / Pool Table is a breathtaking vision, and its effectiveness as a game-winning system is unrivaled. Boasting a precisely tuned design to captivate players of all aptitudes, the table elevates your billiards adventure and stirs the competitive fire.
Exquisite Precision: Encompassing a professional-quality 19mm solid slate tabletop, this billiard table guarantees precision for an unrivaled pool experience. Its craftsmanship is unmistakable in every shot.
Unlock an awe-inspiring style: Blend timeless and modern shades to create a gaming space that reflects your individual flair. Instantly impress with a savvy combination that announces your creativity and sophistication.
CHOICE OF CLOTH COLOUR:
** This Product is Excluded from any Special Offers **
Then you have the timber paint options:
Black

White

Walnut

Honey Walnut

Olive Walnut

Medium Walnut

Adelaide Walnut

Mahogany

Clear lacquer
Click Here to see available colour options.
Accessories included
4 x 4' 6" Cues




1 x Cross Rest complete




1 x Spider Rest complete




1 x Set Pool Balls




1 x Basic Snooker Ball set




1 x Cottage Scoreboard




1 x 8 Clip Wall Mount Cue Rack




1 x Timber triangle




1 x Rule Sheet




1 x Brush




2 x Chalk & Chalk holder




1 x Alley's & Shaker



Ask us about a quality cover to protect your new investment from dust and insects, this way your new pride and joy will last for decades and give you and your family many fun memories (these are an additional cost and not included in the accessory pack).
Dining Top Addition 
Elevate your living space with the epitome of versatility - introducing our exquisite Australian Tassie Oak dining top. Imagine seamlessly transforming your Games Room into a captivating dining room with the simple addition of our innovative dining top. Meticulously handcrafted, each piece boasts the inherent beauty of Australian Tassie Oak, radiating warmth and elegance.
With choices ranging from beveled to straight edges, we ensure your individual preferences are met with precision. Should your vision demand a specific size, worry not – our craftsmen can bring it to life. For 7ft Billiard Table aficionados, the top comes in two seamlessly fitting sections, while those seeking 8ft and larger options are presented with three sections.
Deliver service areas listed Below:
Canberra ACT, Australia
Central Coast, NSW, Australia
Adelaide SA, Australia
Bathurst NSW 2795, Australia
Hervey Bay QLD 4655, Australia
Taree NSW 2430, Australia
Gold Coast QLD, Australia
Newcastle NSW, Australia
Sydney NSW, Australia
Melbourne VIC, Australia
Tamworth NSW 2340, Australia
** This Product is Excluded from any Special Offers **
Important note: each table is individually 100% hand crafted here in Australia, this is not a cheap imported table. You can be confident that your table is more robust, providing a longer lifespan and precise playing surface.
Warranty: Lifetime excluding normal wear and tear.
Please note: $349 Shipping Is for Sydney metro only orders only please contact us for an exact shipping price to your delivery area at hello@thedens.com.au. areas outside of the listed above locations do not have delivery available. Customers can make their own arrangements to collect ordered tables from the Factory direct.
 The delivery and installation of the table is carried out but the manufacturer to ensure your table is setup to the exacting standards by which it has been built (note: additional charges apply for difficult access eg. steps/stairs).
The turnaround time to build the table is approx. 4-5 weeks from receipt of order. If you have a special date we will endeavour to have it completed sooner for you just chat with us regarding the details and we will do our best to accommodate you.
 Click here to see other great tables in the custom range
Thank you for helping us to support local businesses
Frequently Asked Questions
Does my table come with a warranty?

Yes you have a lifetime warranty on your table.
Does my table get installed for me?

Your table will be installed by the manufacturer to ensure it is setup correctly and plays maximum effectivness..
How long will my table take to build?

Typically your table will take 4-5 weeks to build depending upon build numbers.
Who Installs my table?

The manufacturer will install your table to ensure it has been setup correctly and your warranty stays in tact.