Regular price
$255.00 AUD
Regular price
Sale price
$255.00 AUD
Unit price
per
Sale
Sold out
Fast Support

Custom Products

Australia Wide Shipping
Frequently Asked Questions
View full details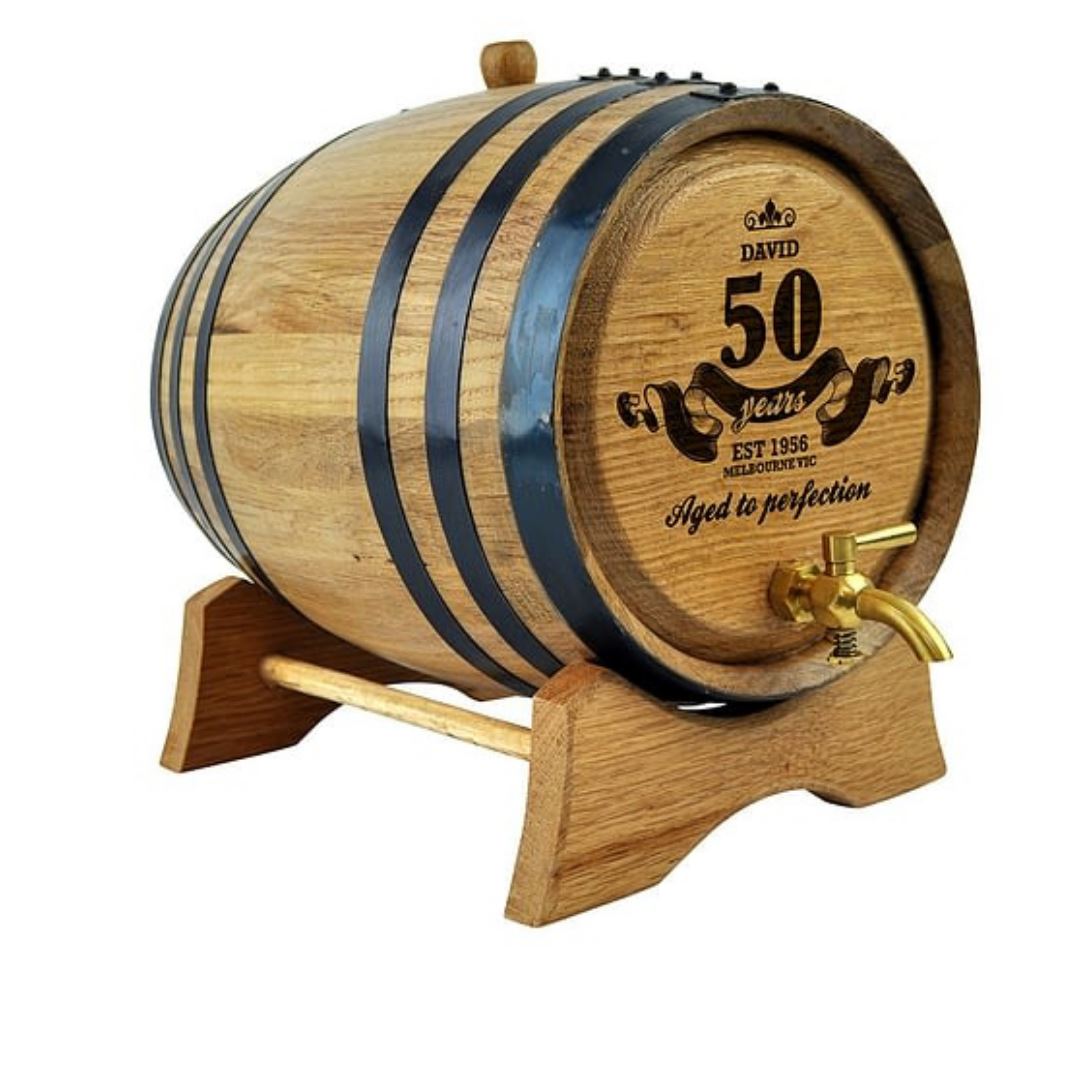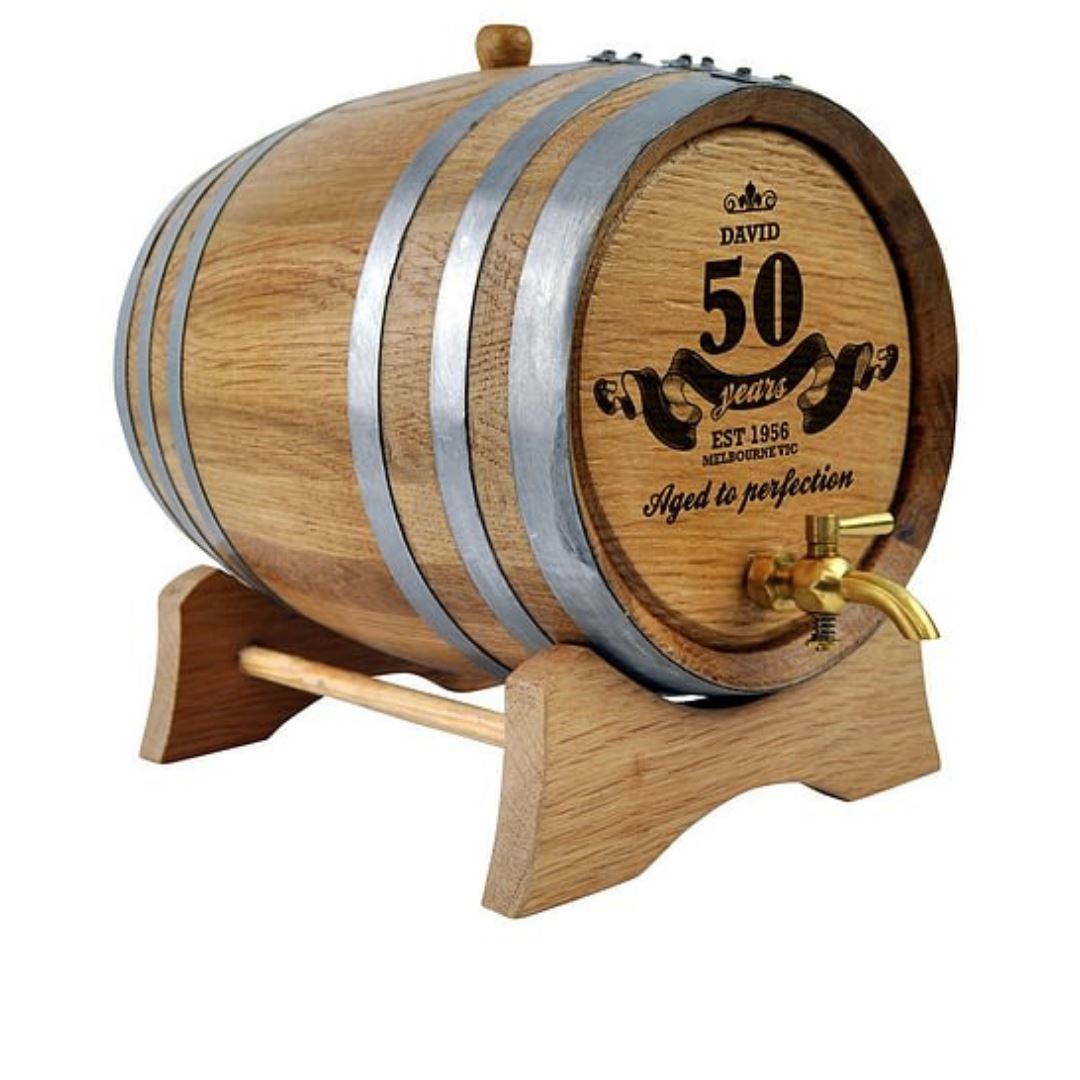 Select Your Metal Ring Colour
This Mini Oak Barrel Aged to Perfection is a genuine, certified, multi-use product. Use it to add a sophisticated touch to any Man Cave or Diva Den, or to age and serve your favourite beverage.
Benefits of your barrel:
Unique gift idea.

Cost effective aging.

Enhanced flavour maturation.

Small batch creation.

Customised aging

Fun Fact: A barrel maker is called a cooper Someone who makes oak barrels is called a cooper. If you or someone you know has that as a last name, chances are some relative was a brewer, distiller, or winemaker.
Here are some great examples of occasions previous customers have purchased for:
Unique 40th or 50th birthday gift,




Customised Christmas present,




Anniversary gift




Father's or Mother Day gift.




I'm sorry present.

Leaving the company gift.

Pubs wanting a furniture piece with their brand logo on it.

Wedding prop that becomes a gift.

There are many many many more applications for this great product.
Your Mini Oak Barrel is a perfect gift idea for someone special and you are struggling to find the perfect gift. It is also a terrific way to spoil yourself if you're someone who loves a good drop while you are relaxing at night or on the weekend.
Back to your product
The aged to perfection Mini Oak Barrel has been handcrafted from American White Oak and has the feature of 2 different hoop types, Black Steel (most popular) or galvanized steel and 2L, 5L & 10L sizes available. These are barrels are the genuine article.
The Oak interior has been medium charred to achieve a full flavour & Aroma into your favourite Wine or Liquor. These Custom Oak Barrels are perfect for serving up your drink of choice or for the true connoisseur why not age your favourite Port, Brandy, Scotch, Whisky, Bourbon, Cognac, Wine or Vinegar. Your Barrel will come complete with a stylish stand, A wooden spigot tap, a top bung and full care instructions. For those who wish to add a real touch of style upgrade to the Brass Tap. 
Important Information: Please clink the links below,  read and print should you choose to purchase one of our Barrels.
Once an order has been received for your Mini Oak Barrel an approval template will be sent out to your for your final design approval. Please note once approval template has been returned to the suppliers no design changes or refunds will be given so please ensure you check your information carefully. If no changes are required please advise your approval to engrave ASAP. 
Dimensions:
2L     20CM Long x 18CM Wide x 21CM High

5L     30CM Long x 22CM Wide x 26CM High

10L   31CM Long x 27CM Wide x 31CM High
Custom Text Available On All Size Options
Click here for other great designs
Thank you for helping us to support local businesses
Frequently Asked Questions
Is my barrel a genuine barrel or a bladder option?

You barrel is a genuine working miniature barrel meaning it needs to be sealed and it will season your drink of choice.
Which is the best tap to use?

It is a really a matter of which tap looks the best to suit your decor however the brass taps give a much higher end feel to your barrel.
Can I add a personal name to my barrel?

Yes we do have options where a name can be added to the barrel graphic making it customised to the receiver if its for a gift.