Regular price
$2,150.00 AUD
Regular price
Sale price
$2,150.00 AUD
Unit price
per
Sale
Sold out
Fast Support

Custom Products

Australia Wide Shipping
Frequently Asked Questions
View full details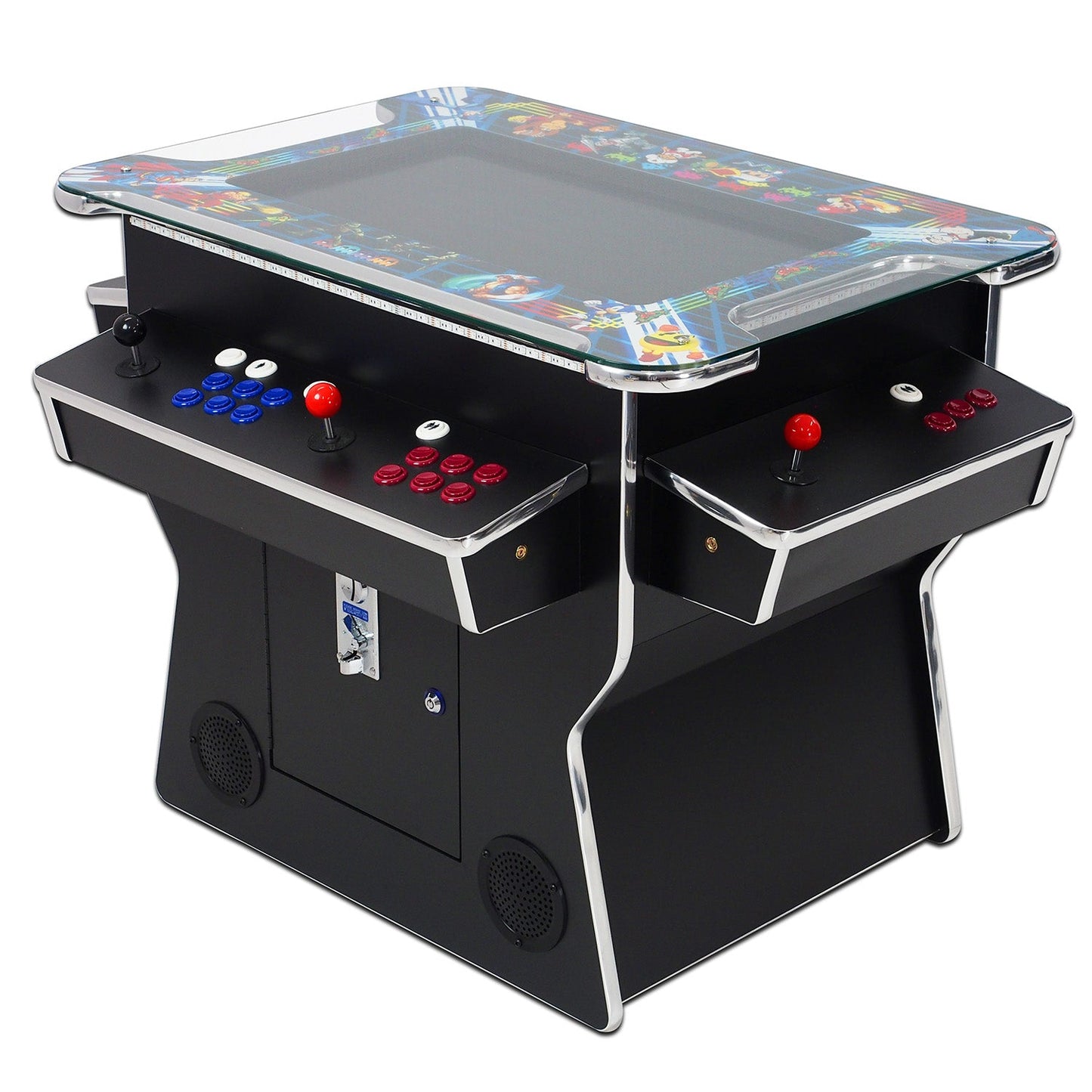 You can now own a compact stylish design Tilt Cocktail Arcade Tabletop Machine with 3500 games all in one fun pack machine! 
The Tilt Cocktail Machine has the following great features:
Strong 18mm thick cabinet




No Assembly Required – Just plug in & play

PCB is an ICADE 3500 in 1 Machine! The greats like: Pacman, Galaga, Donkey Kong, Frogger... PLUS Double Dragon, Track and Field, X-Man etc

"27 LCD screen is a gaming screen not standard TV screen.

 The games flip to each player and sideways plus the screen TILTS for team action!




Great standard graphics or upgrade to a different design.




Undermount LED lighting complete with remote control to switch on & off at your leisure.

6mm thick toughened glass table top




Cool arcade graphic table top surround




Coin operated or set to free play




Chrome edging

The glass tops are bolted in place

, not loosely clipped

Classic Joysticks and Solid plastic Classic style dished buttons




Adjustable Stereo sound




Everything is easily accessible




High Quality Ball Joysticks or

upgrade to the more sensitive Sanwa joysticks with extenders or an even more immersive experience

24 months warranty
The 3500 Game Tilt Cocktail Arcade Table is unique in that it offers an additional playing side while still maintaining the classic timeless design from days past. This machine can replace your coffee table with its small and efficient size, a great addition to the infamous Man Cave or Diva Den! The beauty of this machine is that you can tilt to screen up with the aid of gas trust to play side by side with your buddies or partner giving a unique player experience that will create lasting memories for years to come..
This machines offer hours of endless head to head, solo and team gaming fun in a great looking machine with unique graphics. Relive your Arcade playing days with family and friends! Anyone who has been searching for a tilt cocktail machine in Australia will love this option.
Great service and good quality
Purchased Tilt Cocktail arcade machine
Great service and cool machine. good build quality and customer service was great. The machine arrived interstate quickly and well packed. With so many games can take a little getting used to scrolling through them all but lots of fun
Exceeded expectations
The kids and myself really love this machine. Hours of fun and great playing the familiar games again. Thanks
Tilt cocktail Machine
This machine is beyond expectations little and big kids (40+) love it, Great service and I got my machine when I wanted it. Thanks to the Dens 🎉
Great products lots of fun
Frequently Asked Questions
How does the Tilt Cocktail Vary from the Classic Cocktail?

The tilt machine has a screen which lifts from the horizontal plane to the vertical plane. This allows player to position end to end or they can sit side by side for game play.
Is the screen Perspex or Glass?

These are high quality machines which have toughened glass screens to ensure toughness and the best visuals while playing.
Can I purchase stools to go with my Cocktail machine?

Yes we have sit-down arcade machine specific stools available for purchase.